Lavit ... Drink Well Do Well!
The Lavit carbonated drinking water system is a sustainable solution for healthy drinks in your break room. Enjoy a large variety of sparkling sugar free beverages including brands like Arizona Ice Tea, Hint Water, and Celsius Fitness Drinks  . Lavit will change the way you drink in the office.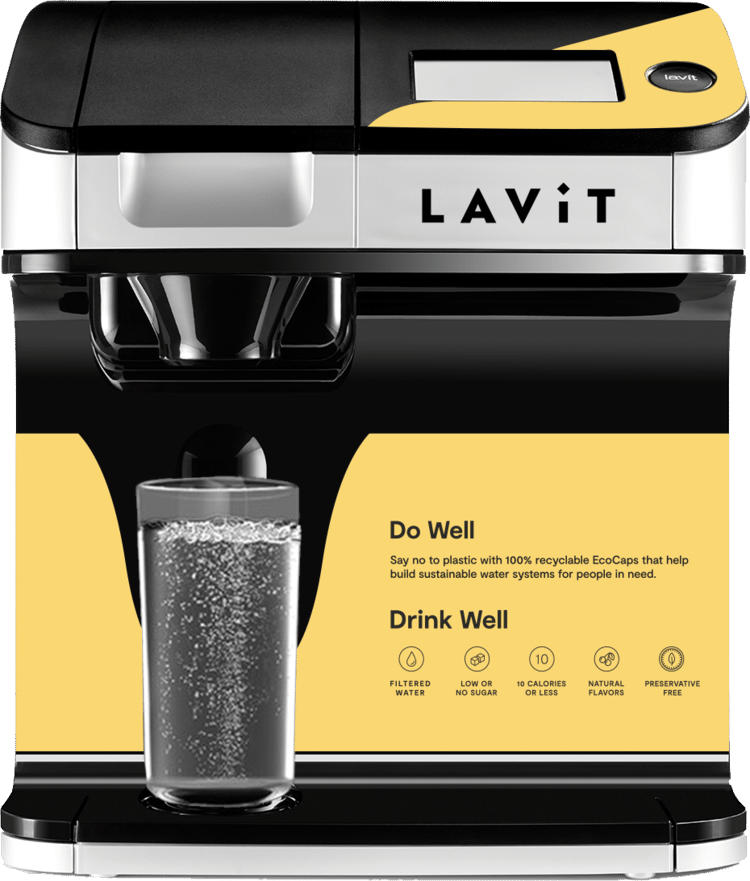 Any Drink Still Or Sparkling, Good For You, Better For The Planet!
Lavit is the still and sparkling water cooler that offers over 25 flavors of 100% recyclable EcoCaps.  With Lavit there is no more fridge full of plastic bottles. The EcoCaps are space saving and light weight. Did you know that the Lavit display rack which is less than 17″ high by 10″ wide by 10″ deep holds 144 EcoCaps and weighs less than 1.5 lbs. Imagine how much space 144 bottles or cans will take up in your refrigerator?
The Lavit water cooler will enhance your break-room from the traditional counter-top water cooler. Everyone will love the variety of beverages as well as the ability to get filtered still or sparkling water. The Lavit water cooler is also equipped with antimicrobial materials and automatic ozonation the automatically cycles before the start of each day. This is like starting every day with a brand new water cooler.
Choose from a wide variety healthy beverages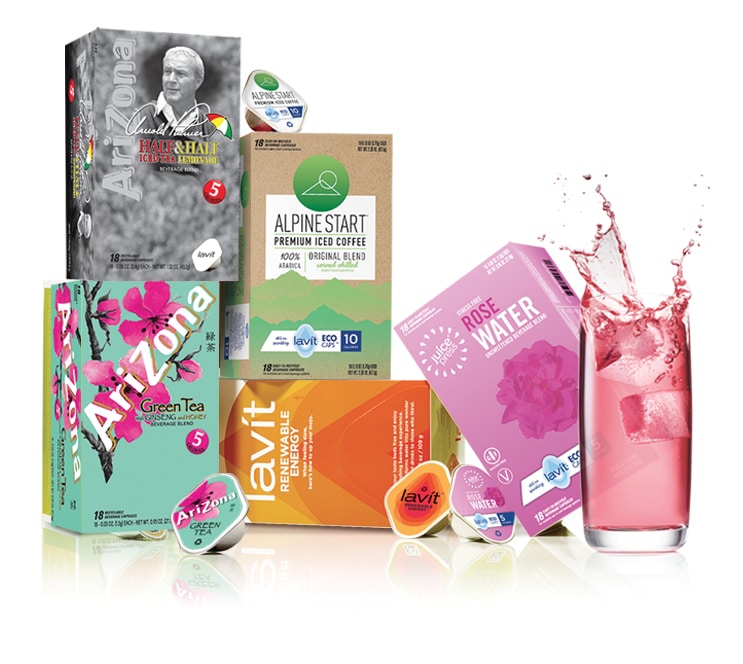 HEALTHIER, HAPPIER EMPLOYEES
More than anything, we want to encourage you to drink more water. It's no secret that stayed hydrated is imperative to good health and even to productivity. And we know that sugary sodas can be a lot easier to reach for (and can certainly be more fun) than just water. But who says "healthy" and "fun" are mutually exclusive? With Lavit, you can choose a fun flavor and enjoy the same health benefits as water, and then some.
SUSTAINABLE SIPPING
Lavit EcoCaps are 100% recyclable at the point of use. When you create your beverage from an EcoCap, the system flushes out the capsule, leaving a small piece of aluminum just one-seventh the size of a 12 oz. aluminum can. Drop the capsules right in your metal recycling bin and move on with your day, knowing you can now use the hashtag #zerowaste.
It's Time To Upgrade Your Office Water
Click Below Or Call Us At 800-322-0439 To Find Out If Lavit Is Right For Your Office
Good As Gold Coffee provides the Lavit Carbonated Water Cooler program in the Worcester, Boston, and Springfield metro areas. We look forward to providing you with still, sparkling, and other healthy beverages in your office breakroom.