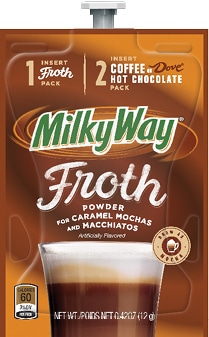 Good As Gold is excited to announce that Flavia Milky Way Froth has returned! This drink is part of Flavia's Specialty line of beverages. The Flavia Milky Way Froth will make a creamy froth that can be added to coffee, espresso or hot chocolate to create specialty caramel brews at work, such as Caramel Lattes and Caramel Chocolate Lattes. Best of all, the Milky Way Froth only has 60 calories!!
The Milky Way Froth is always used as a 2-pack drink. This means that you need to select the Milky Way Froth first and then choose your favorite coffee or hot cocoa 2nd. Your Flavia Brewer will make a caramel froth and then the 2nd packet will be used to give an intense Espresso shot over the froth. All you need to do is select the cappuccino option with your flavia brewer in order to brew this drink.
You can now order the Milky Way Froth with your next Flavia coffee order at Good As Gold or by going to https://www.goodasgold.com/Flavia-Indulgence–Milky-Way-Froth–1-rail-18-servings_p_430.html .
If you would like to learn more about Flavia Coffee Service for your office please CLICK HERE. Good As Gold Coffee has been an authorized Flavia distributor for over 20 years.  We specialize in coffee service to offices, businesses, and restaurants in Massachusetts for over 50 years. You can reach us at 800-322-0439.